Yesterday we went downtown and walked about to see what we could see. Ran across a nice little bookstore/art gallery and also a paper store. I picked up a gray Tombow dual brush pen/marker. I've been curious about these for a few months now and finally saw one in a store. This should allow me to quickly add a bit of shading to my sketches while not adding much bulk to my carry-around items.
After walking in the park, we headed to the hospital because Ashley had a quick training session. We arrived early and sat in the cafeteria until they closed it for cleaning. Upon arriving, Ashley realized she had a voicemail and listened to it, while I sketched her.
I've realized that I just sketch when I have time – and that drawing expands to fill the amount of time available. So I have no idea how long each of these sketches take! So yesterday I tried to pay a little more attention. This quick portrait was roughly 5 minutes.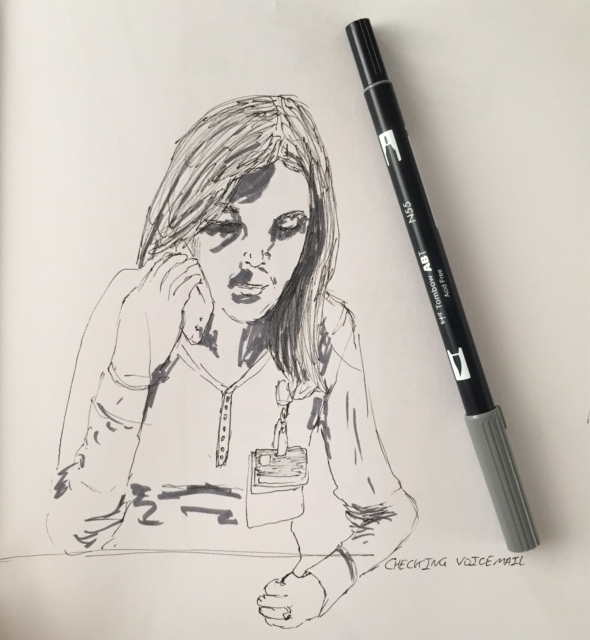 Ashley headed up for her class, so I drew another view of the cafeteria.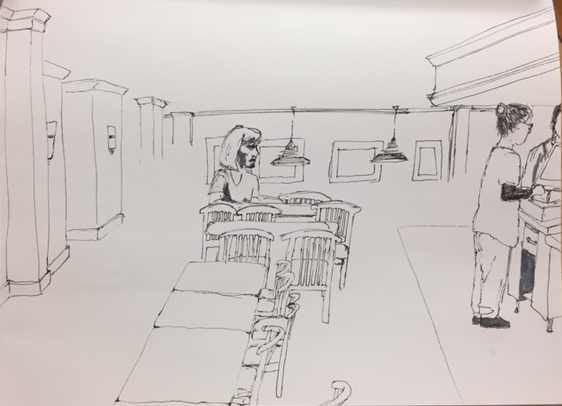 Have to say, I'm getting a bit tired of drawing those chairs… But they're so prominent it's hard to omit them! After finishing the sketch I added some shading with my new marker. Here you can see a bit of the contrast of the before/after. Really adds some visual interest!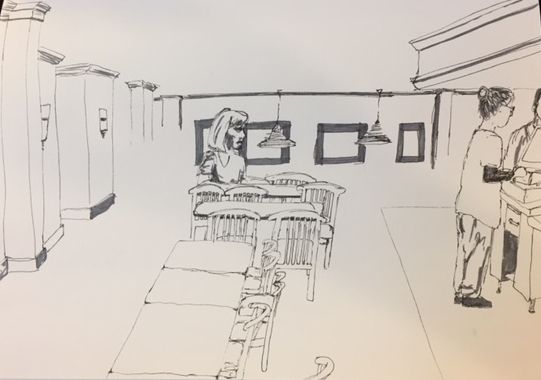 Ashley actually recalled the time incorrectly (we were thirty minutes early), so she came back down and joined me. That means that the above sketch took roughly 20 minutes.
They close the cafeteria a few times each day for cleaning/restocking/etc. This was one of those times, so we headed out to the lobby. Ashley headed back upstairs for the meeting shortly after we arrived, so I spent about 30 minutes sketching the StarBucks kiosk, along with some of its patrons.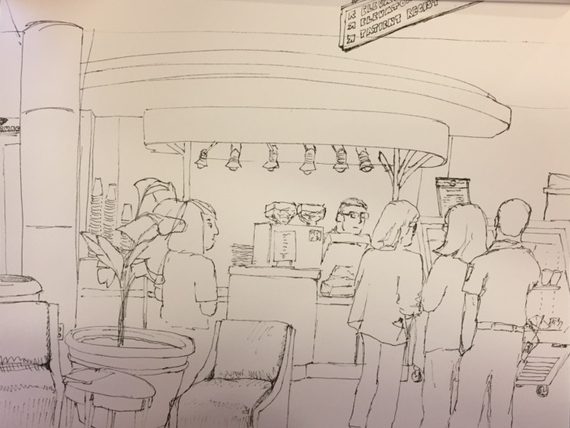 While sketching I had one woman stop by and ask if she could be nosy and see what I was drawing. She really liked seeing this and the other cafeteria views, and was impressed with Emily's portrait. I had just started adding some shading when Ashley arrived and we headed on our way.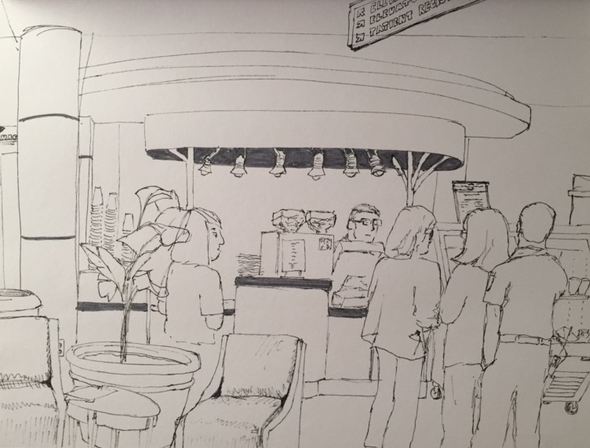 I'm loving my marker! It's nice to have the option to quickly add some shading. I've been carrying around a little travel watercolor set but haven't broken it out yet – it's both a bit time consuming and quite intimidating to add color. But with the success of this new marker, I think that color is the next step!