In addition to Playful Portraits I also create traditional portraits – highly-detailed charcoal drawings on archival drawing paper, like the one above (which won "Best of Show" in Lexington's 2012 National Arts Program show) and below: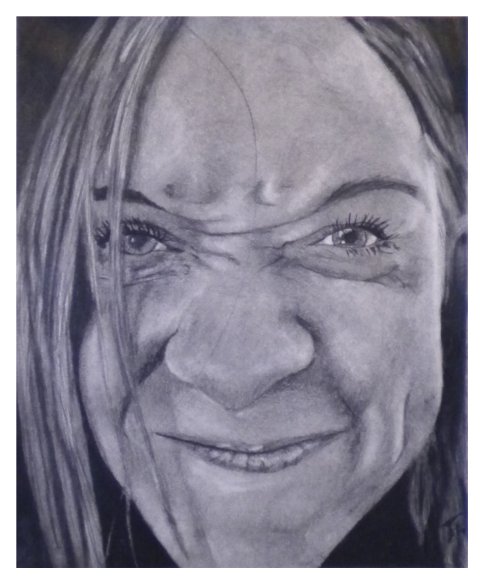 Details:
The finished charcoal portrait will be 11×14″ – which can be framed and matted using items available at any frame shop. 1-3 individuals can be portrayed, as you prefer, and will be shown either from the shoulders up or as a close-up just of their face(s).
Though I'm going to be drawing the portrait, we'll be working together on your project – complete with the requisite communication.
I'll need at least 5 high-quality photographs from you, along with 1/3 of the total price before I begin.
Once I've finished the initial sketch I'll send you a picture of the image for your preview. If you approve it I'll continue on to the final draft upon receiving a second 1/3 payment.
A photo of the finished portrait will be shared with you for final approval. If you're happy with it you can send me the final 1/3 payment and I'll carefully package it for shipment and send it on to you.
Total cost of a portrait is $270 (three $90 payments) which includes the artwork itself, a Certificate of Authenticity for the portrait, a "progression" page here on French-Holt.com, shipping and handling, and sales tax.
By working in stages, we can ensure that we both enjoy the process and are happy with the finished portrait. If, for some reason, this happens to not be the case, either of us can cancel the project along the way between the different stages.
I look forward to working with you!